Network of Specialists
Through Northwestern Mutual, I have access to a Network of Specialists. We help each other, share ideas and common values, and leverage each other's talents to help you achieve your personal dream of financial security.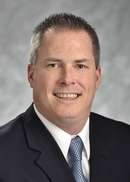 Disability Income Specialist
Our Disability Income Specialist assists individuals and businesses design a disability income insurance program for both individual and group needs.
Wealth Management Advisor
Brian is a personal friend of mine.  We share many similar interests and have known each other for about 15 years.  Brian is our disability specialist and works primarily in the medical market.  If you know or are close with someone that works in the medical field, please introduce us and I will introduce them to Brian.
Annuity Specialist
Our Annuity Specialist provides expertise in helping clients create an approach for financial security in retirement utilizing both wealth accumulation and retirement income strategies.
I work with Jay professionally and have used him as a consistent resource.  Jay works out of the Germantown office and is very knowledgeable in a number of areas, annuities and long term care.  If I had any concerns, or you would like to meet Jay, please let me know and I can introduce him to answer any questions you may have in his areas of expertise.